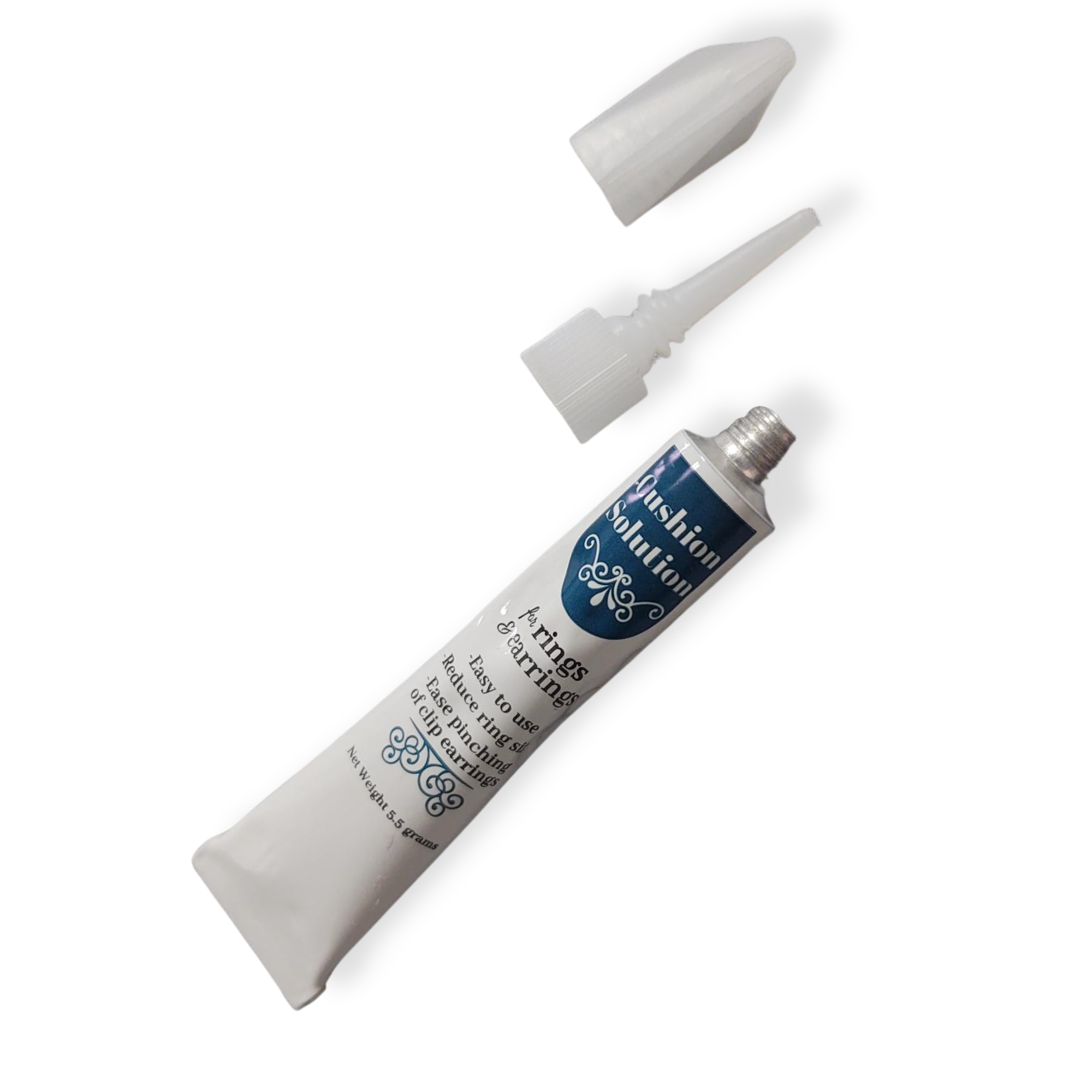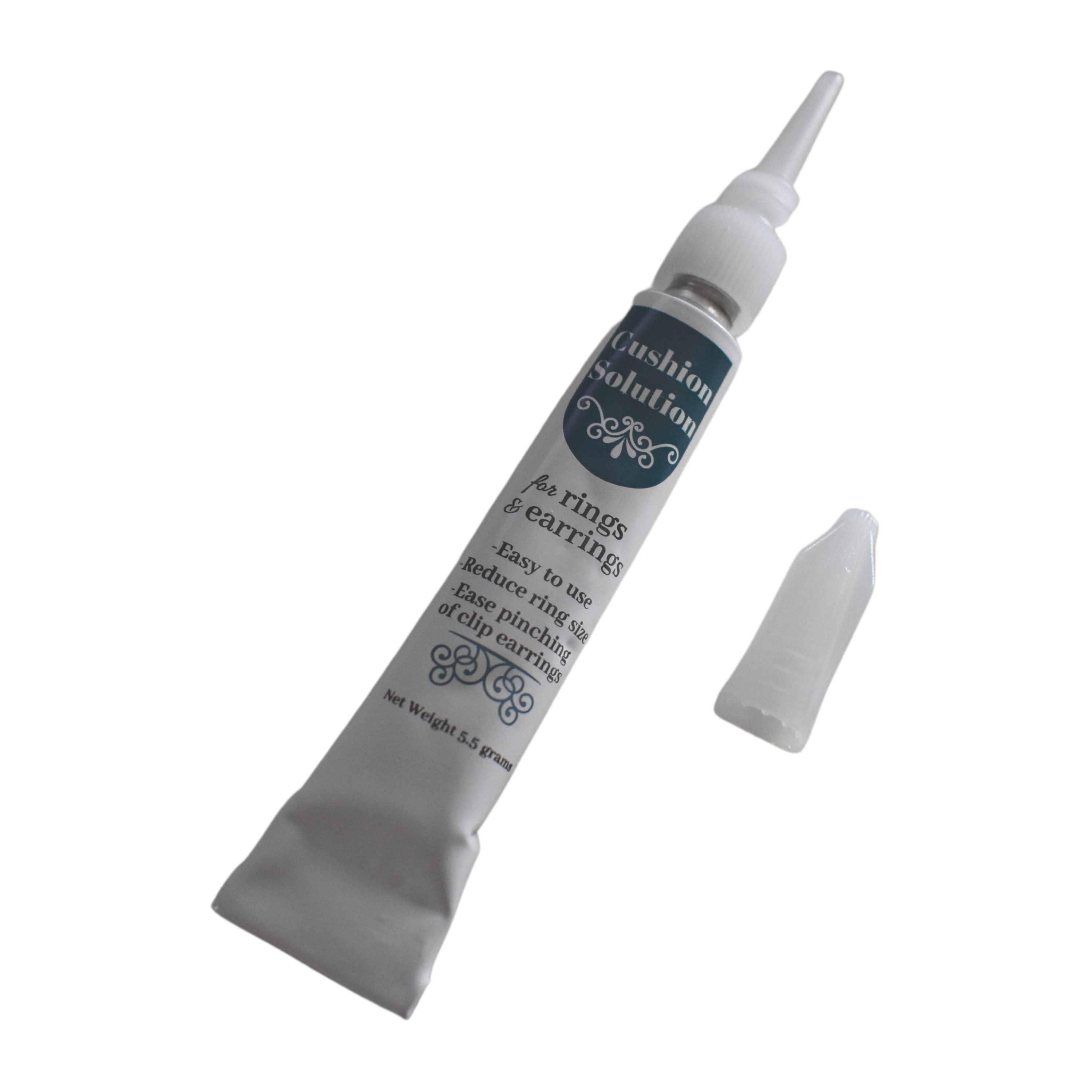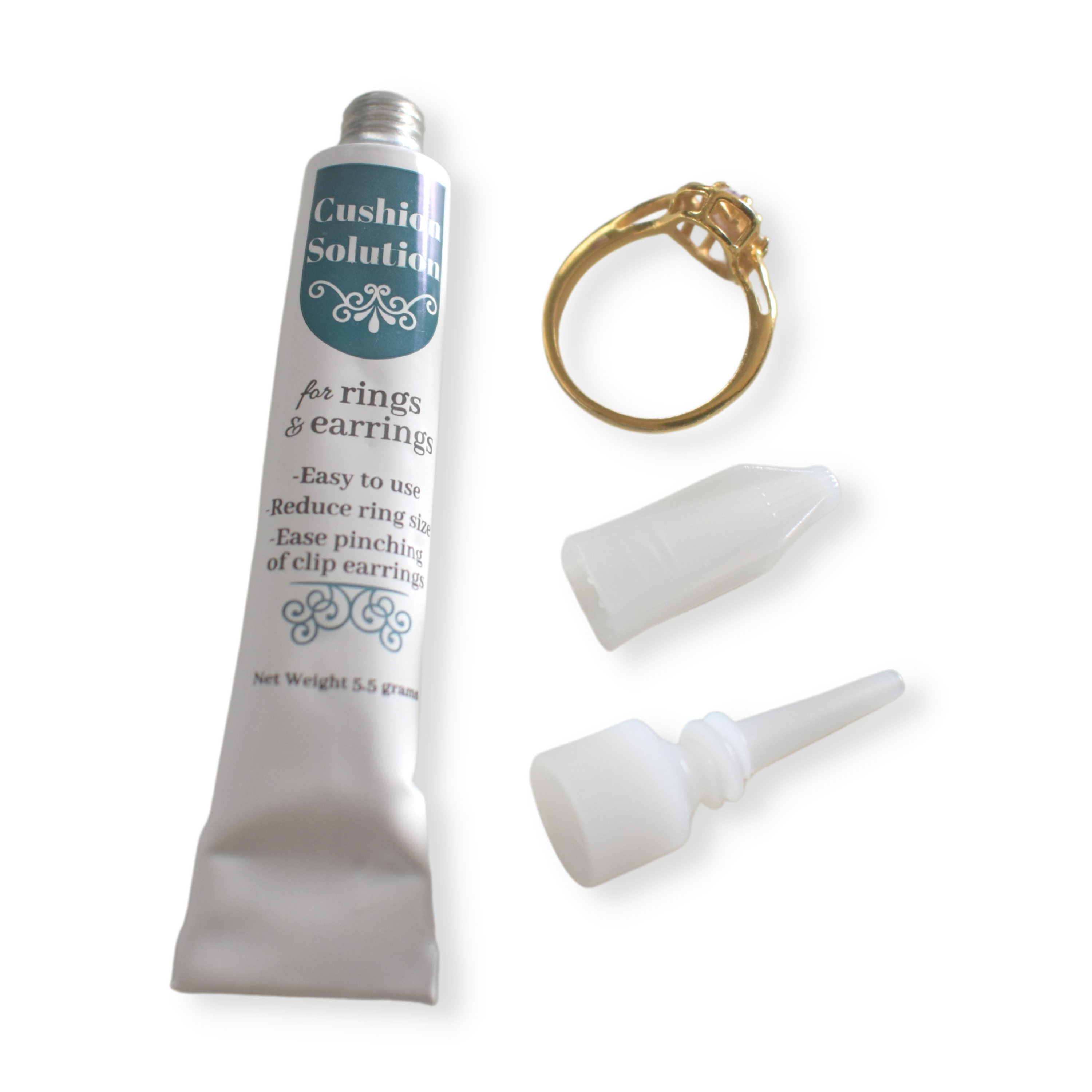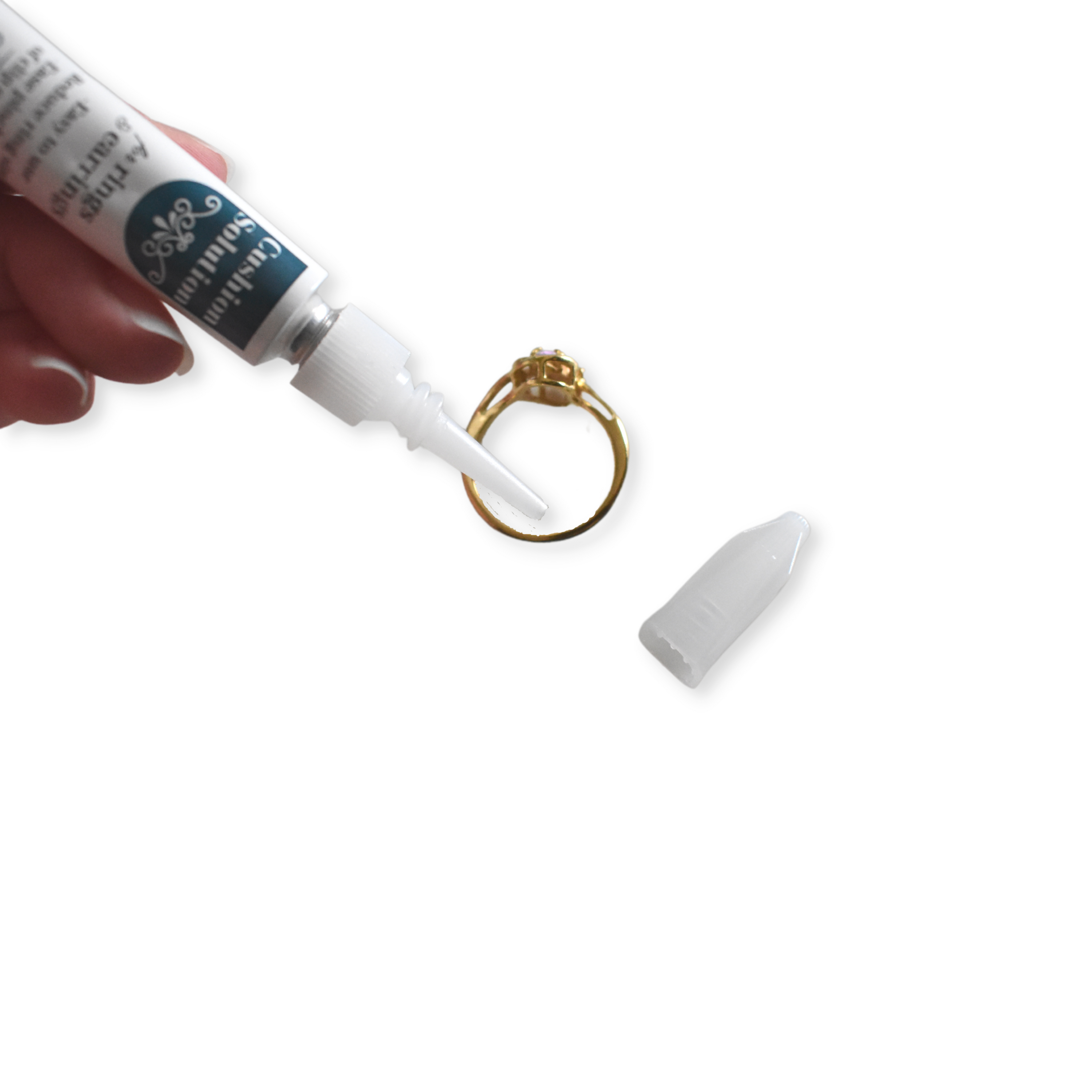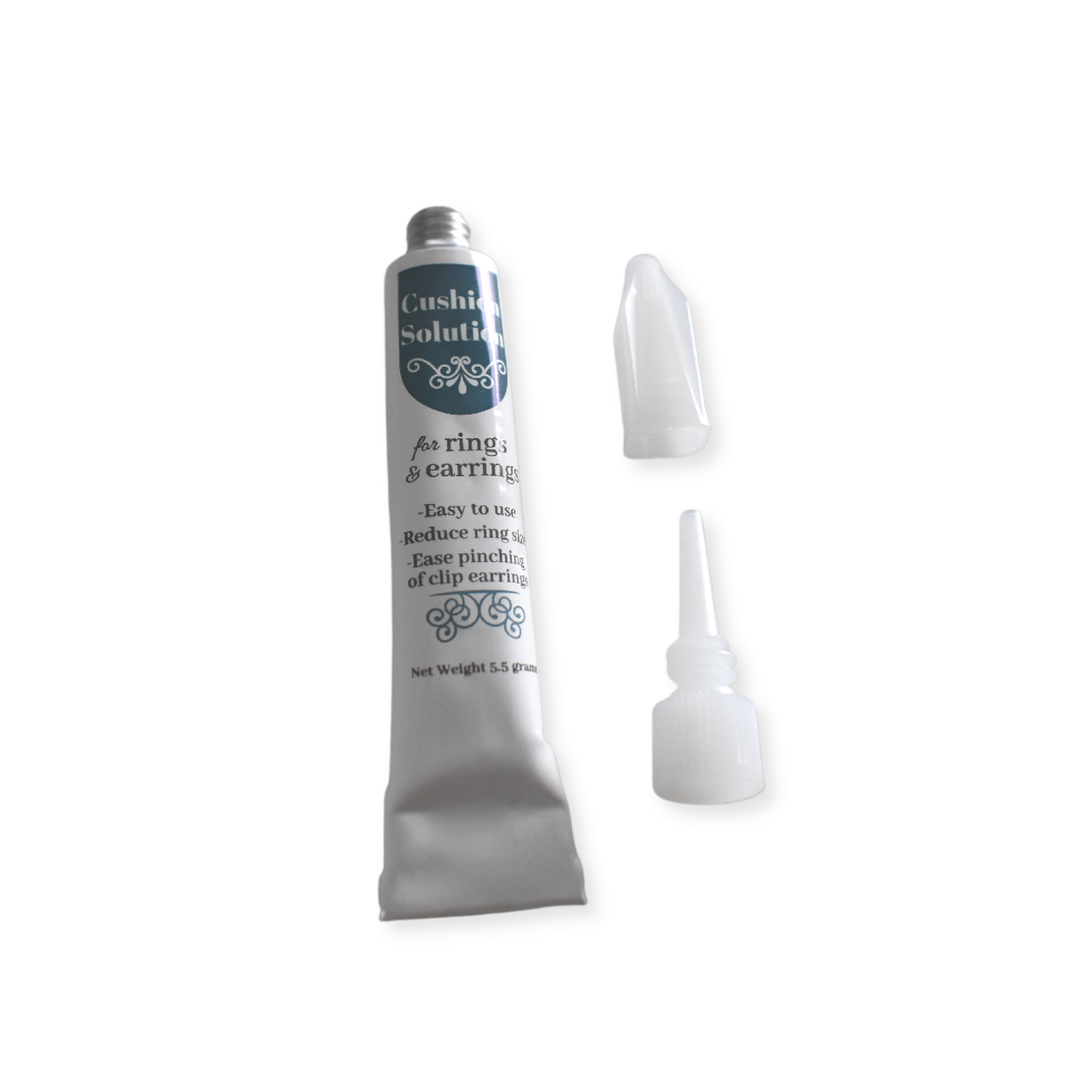 Cushion Solution Liquid Ring Sizer
Description
New look, same great benefits! Add both cushion and comfort to your favorite rings with Cushion Solution. This clear Latex Silicone gel can be applied to the inside of the ring to make your loose rings fit and keep from sliding around the finger. This can also be used as padding for clip earrings to ease pinching or as a barrier to prevent metal-to-skin contact. Not intended as a permanent fix.
Details
Removable Applicator tip
A liquid application that dries solid
Easily peel off when no longer needed
apply to fit your ring-wearing needs
Clean and dry the inside surface of the ring using alcohol. This is very important to make sure the Cushion Solution bonds to the ring surface. Apply a small amount of Cushion Solution to the bottom inside the band of the ring by gently squeezing the tube. Use a toothpick to smooth and shape. After applying, let cure overnight or a minimum of 12 hours and remove any excess before wearing. To remove, simply peel off. 
SKU: 1088
Cushion Solution Liquid Ring Sizer
Shipping and Handling
Shipping Policy
Standard Shipping for All US states is $4.99 for orders under $25 and Free Shipping for orders over $25. We currently are only shipping to select international countries at this time due to shipping issues in various countries. If you do not see a shipping option for your shipping address, please feel free to contact us at sales@earrs.com.
Due to COVID-19 restrictions in other countries, International orders will take longer than normal to arrive. Please check HERE for delays in your country.
Handling Time
Please allow 1-3 business days for us to package and ship your order. Once your order ships, you will receive an email notification stating your order's USPS Tracking number.
Please note: USPS has slowed transit times across the US by 1-2 days. Any expected Delivery Times provided by USPS or our website are only estimates. Expected transit time for all US orders is between 4-7days with some taking up to 14 days. International order very greatly, so we cannot provide an estimate on transit time.
Thank you for your understanding!